| | | | |
| --- | --- | --- | --- |
| 2019-03-02 | La Liga | Real Madrid : Barcelona | 0 : 1 |
| 2019-02-27 | Copa Del Rey | Real Madrid : Barcelona | 0 : 3 |
| 2019-02-06 | Copa Del Rey | Barcelona : Real Madrid | 1 : 1 |
| 2018-10-28 | La Liga | Barcelona : Real Madrid | 5 : 1 |
| 2018-05-06 | La Liga | Barcelona : Real Madrid | 2 : 2 |
Barcelona vs Real Madrid will be the most awaited La Liga match during the 17th Round, which will be held at Camp Nou, in Barcelona. El Classico is the most interesting even in Spanish and Worlds football at the moment. However, both teams faced lots of troubles and difficulties this season. Both teams stand at top of the La Liga and collected the same amount of points. Most interesting, that Barca won 4 out of 6 last games in different competitions. Read our thoughts about this thrilling and exciting La Liga Barcelona vs Real Madrid El Classico match, here below.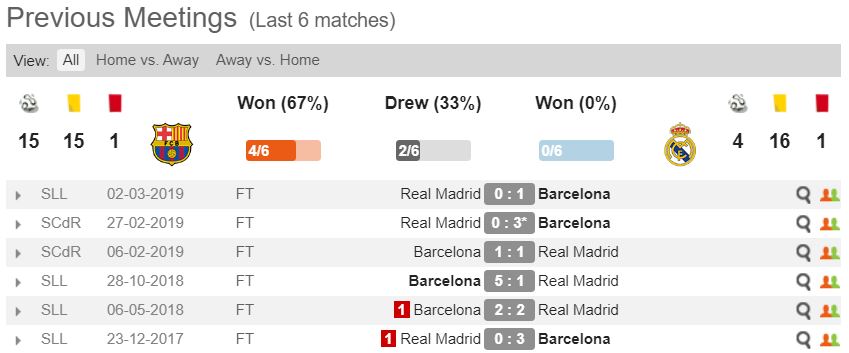 Barcelona vs Real Madrid
Barcelona
Barcelona have 9 unbeaten matches run with 7 wins. Catalonians leads La Liga even after 3 defeats and 20 conceded goals. During the summer transfer window, Barca made several changes what made a strong impact in teams attacks. At the moment Antoine Griezmann was involved in 10 scored goals and takes a very important role in the team. In UEFA Champions League, Blaugrana took qualified to Playoffs after taking 1st place finishing the Group stage with 4 wins and 2 draws. In the round of 16 hosts will face SSC Napoli. After last seasons failure in CL against Liverpool, this time, they are even more motivated and strong. Even so, in La Liga, they have a great opportunity to take a lead taking 3 very important points against constant rivals Real.

Real Madrid
If Barca made changes in their squad, then Real changed almost half of their team what strongly affected their game. Zinedine Zidane came back as a manager and put the squad on higher-level even signing 5 first-team players like Eden Hazard, Rodrygo, Jovic, Militao and Mendy. The Meringues shows one of the strongest defences and lost only once during this season in La Liga. They collected the same amount of points as Barca and stands at 2nd place only due to worse goal difference. In UCL they lost to PSG in the opening round but stood strong playing all other matches and finished second in Group A. So far, they have all chances to fight for the all trophies that were skipped last season. Moreover, we know how dangerous Zidane's team could be playing important games.
Statistics taken from https://www.whoscored.com/
Article image is taken from http://www.sportingpedia.com/